What are the reliable raw materials available for the manufacturing of Sofa Upholstery?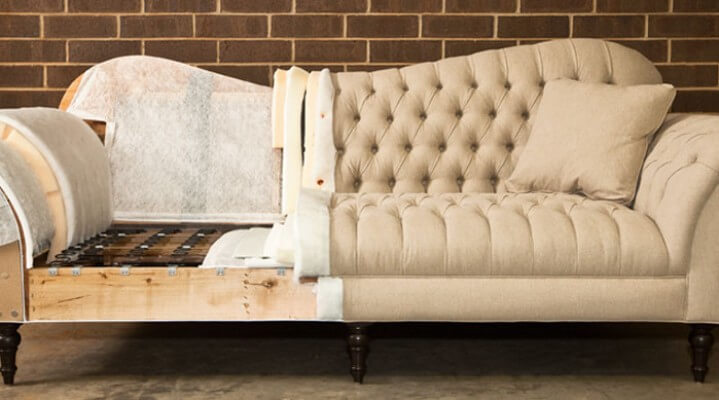 The production of high-quality sofa upholstery  requires the use of a range of raw materials that are durable, comfortable, and aesthetically appealing. Some of the most reliable and commonly used raw materials in the manufacturing of sofa upholstery include:
Leather: Leather is a popular choice for sofa upholstery due to its durability, luxurious appearance, and natural texture. There are different types of leather, including full-grain, top-grain, and bonded leather, each with its own unique properties. Full-grain leather is the highest quality and is prized for its natural marks, while top-grain leather is sanded and buffed to remove any imperfections, making it smoother and more uniform. Bonded leather is a combination of leather scraps and synthetic materials, making it less durable and less expensive than other types of leather.
Fabric: Fabric is another popular option for sofa upholstery, as it comes in a wide range of colors, patterns, and textures. Some of the most commonly used fabrics for upholstery include cotton, linen, wool, and synthetic fibers like polyester. Cotton is soft, durable, and breathable, making it an excellent choice for upholstery. Linen is also a popular option, as it is strong, cool, and naturally wrinkled, giving it a relaxed and informal appearance. Wool is known for its softness and durability, while synthetic fibers like polyester are easy to care for and come in a wide range of colors and patterns.
Foam: Foam is used in the production of sofa upholstery to provide comfort and support. There are different types of foam available, including polyurethane foam, memory foam, and high-density foam. Polyurethane foam is the most commonly used type of foam for upholstery, as it is affordable, flexible, and durable. Memory foam is also a popular choice, as it molds to the shape of the body, providing excellent comfort and support. High-density foam is a more durable and supportive option, making it ideal for use in high-traffic areas.
Springs: Springs are used in the production of sofa upholstery to provide support and comfort. There are different types of springs available, including serpentine springs, pocket springs, and sinuous springs. Serpentine springs are coiled springs that are connected to each other, providing a smooth and comfortable ride. Pocket springs are individual springs that are enclosed in fabric pockets, providing excellent support and minimizing motion transfer. Sinuous springs are a type of S-shaped spring that run from the front of the sofa to the back, providing a balanced and supportive ride.
Wood: Wood is used in the construction of the frame of a sofa, providing the support and structure needed to hold the upholstery in place. Hardwoods like oak, maple, and birch are commonly used in the construction of sofa frames, as they are strong and durable. Softwoods like pine and cedar are also used in some applications, as they are lightweight and affordable.
In conclusion, the raw materials used in the manufacturing of sofa upholstery play a critical role in determining the quality, comfort, and durability of the finished product.