Smart Bookshelf Designs To Consider To Revamp Your Space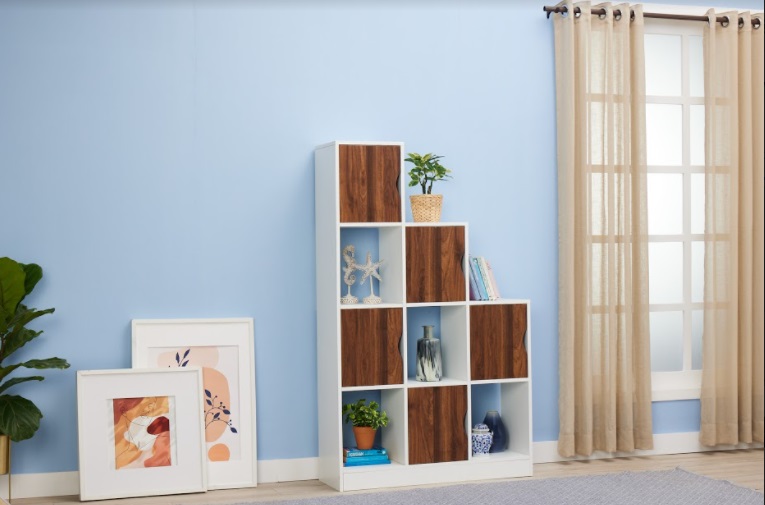 It is only the bookworms who would understand the importance of having a dedicated book space in the house. It not only adds beauty to the décor, but it also plays a distinctive role by defining one's personality too. Similarly, every bookshelf design tells a unique story about an individual and adds appearance to the space. With the advancement in clever designs, you can have a book space in the room while using it as a decorative partition or as a center of focus for the eyes. If you are planning to buy a new bookshelf or organize your pile of favourite reads to recreate your home library space, we have shortlisted a few of the designs to consider.
Straight Shelf-Like Library:
Simplicity is the new modern design. A straight shelf-like library on the wall is the right way to amp up your space while having attractive bookshelves. Being versatile, this type of shelf goes efficiently with any kind of interior and room, thus, you can create a unique statement around the tv unit, a closed design with glass panels inside your workspace, or a floating wall-mounted design to fill the empty wall beautifully. In every way, this royal design will add charm to the space without keeping you disappointed.
Bookshelf as Bed Backdrop:
For somebody who doesn't obtain a good night's sleep before giving some time to enjoyable reading, this is the one for you. While you keep your books organized, you can have them placed at your hand's distance around the bed for a peaceful read while you curl up in your blanket. Thus, you can form your precious assets such as books, a part of your bedroom décor by having shelves around the bed backdrop. It will be a unique décor statement every eyeball will appreciate.
Staircase Bookshelf To Use Space:
If you are someone who loves to utilize every inch of the house smartly, you cannot miss this one. Other than running to and fro on the staircase, put it to another use by utilizing the space under the steps to store your books of knowledge smartly. Covered, racked, or shelved, in every way, it will help you to use this space in the quirkiest way giving a modern touch to the entire house. If you have a staircase in your house, this is a must-try décor idea.
Small Angular Wall Shelves:
If you wish to create something unexpected in your kid's room, try the non-traditional kid's bookshelf and perceive the difference it creates in the entire room.  Angular compact wall shelves create an out-of-the-box design on any wall you install. Since it is available in different colours, sizes, and shapes, you have a large canvas to experiment with, giving a unique statement to your kid's room. The best part is that even in a compact spaced room, this will be the highlight.
Utilize the Corner as a Home Library:
There are multiple corners in the house which are generally underutilized. If you have space constraints and still wish to have your dedicated home library, it is time to use such a corner by building an 'A-shaped bookshelf'. You can have shelves created in that corner to store books, or you can even keep a single attractive couch in front of this bookshelf creating a beautiful backdrop for the reading space.
Whichever bookshelf design you choose, it is sure that you will receive numerous compliments for creating a decorative cum utility accent.