8 Essential Tips to Buy Kitchen Knives Online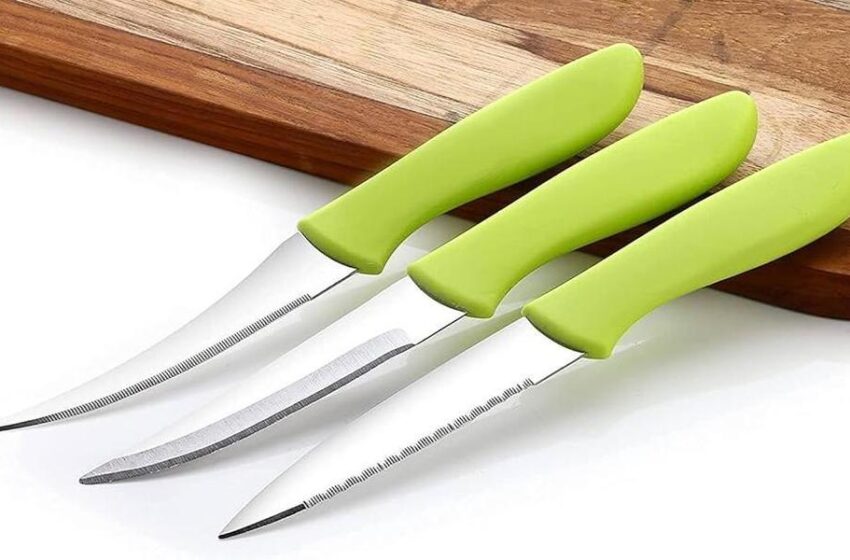 Cooking is an art, and like any art form, it demands the proper tools. The most critical ones in the kitchen are the knives. The right knife helps make the preparation easier, enhances the taste and presentation of the final dish, and provides better control and safety to the cook. So, buying the right kitchen knife is an investment in your culinary skills, and with the advent of online shopping, this task is more convenient than ever before. This blog provides you with eight essential tips to help you buy kitchen knives online with ease.
8 Essential Tips to Buy Kitchen Knives Online
Know Your Needs
Before you buy kitchen knives online, it is essential to understand your culinary requirements, cutting style, and frequency. Whether you need a versatile chef's knife, a specific paring knife, a bread knife, or a set of knives, knowing your needs will help you select the right knife or knife.
Focus on the Blade
The blade of the knife is the most crucial part to consider while buying kitchen knives online. The material, shape, length, thickness, and weight of the blade impact the quality, durability, and performance of the knife. For instance, a high-carbon stainless steel or ceramic blade offers excellent rust and stain resistance, while a curved or serrated edge facilitates better cutting. A heavier and longer blade is good for handling tougher items, whereas a lighter and shorter knife works well for delicate and precise work.
Check the Handle
The handle of the kitchen knife online should be sturdy, comfortable, and safe to grip. Look for the material, shape, size, and balance of the handle. A good handle material can be wood, plastic, or metal, based on your preference, but it should not be slippery. The shape of the handle should fit your hand's size and grip. The balance should be such that the blade and handle are parallel and provide good control while cutting.
Read Reviews and Ratings
Before you buy kitchen knives online read reviews and ratings of the product and the seller. It can provide valuable insights into the quality, reliability, and customer satisfaction of the product and the seller. Look for feedback related to product features, packaging, delivery, return policy, and customer service. Check for accredited websites, secure payment methods, and warranties to avoid any fraudulent transactions and protect your investment.
Compare Prices and Deals
One of the benefits of buying kitchen knives online is the availability of multiple products and sellers in one place. Thus, it is advisable to compare the prices, deals, and discounts offered by various websites before finalizing your purchase. You may also check for bundle offers, free shipping, gift vouchers, and rewards programs to maximize your savings.
Check for Authenticity and Certification
Another aspect to consider while you buy kitchen knives online is the authenticity and certification of the product. The market is full of counterfeit or low-quality knives that can be dangerous and short-lived. Therefore, look for knives that come with genuine certification, such as from the Japanese Knife Association or the German Blade Association. These certifications ensure that the knife is made from high-quality materials and meets rigorous standards.
Look for Customer Support
In case you encounter any issues or queries regarding your kitchen knife purchase, it is essential to have reliable customer support from the seller. Check for the availability and responsiveness of customer support via chat, email, or phone. Also, enquire about the return, exchange, or refund policy, if necessary.
Maintain Your Knife
Lastly, to ensure that your kitchen knife lasts long and performs well, it is essential to maintain it properly. Follow the instructions provided by the manufacturer on how to sharpen, hone, clean, dry, and store your knife. Avoid using the dishwasher and harsh detergents, and use a proper chef's knife bag or knife holder to keep your knife safe and organized.
Conclusion:
In conclusion, buying knives online can be a daunting task, especially if you are not well-versed in the technicalities and the market. However, these eight essential tips help you buy kitchen knives online and make a well-informed decision. Remember always to know your needs, focus on the blade, check the handle, read reviews and ratings, compare prices and deals, check for authenticity and certification, look for customer support, and maintain your knife. With these tips in mind, you can enhance your cooking experience and create culinary delights with ease.